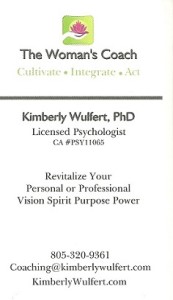 Coaching for Women 40+
I'm the creator of an inspiring eclectic way of "seeing" and coaching a woman in mid-life and older who yearns for clarity, deeper meaning, an authentic connection to her true self and poignant success in all she endeavors to do, with integrity, confidence and professionalism.
I help the woman over 40 to begin or complete revitalizing her personal or career vision, her spirit, her purpose and up her connection to her inner power.  There are no references to goddesses or archetypes or online sensations as leaders or role models.  I don't offer a secret formula to a plan that works for everyone if they just buy my program.  No.  I come from the education and experience of more than 30 years in psychology and as a therapist, and as a woman in business for herself.
Is coaching what you need and can benefit from? It's not the same process or experience as therapy. It's different and I am trained in both. In fact, I took the first coaching program made exclusively for licensed therapists, in 2004; due to our education and training, the course could be modified and shortened.  I was  fortunate to learn from psychologist and author, Dr. Pat Williams, and Diane Menendez at the Institute for Life Coach Training.
From our work together, your goals will be met, plan completed and your self-knowledge and self-expression will flourish!  You will realize your plan to live the life you desire, both in your personal and professional life.
I will ask the right questions to open your eyes and mind. I'll inquire at the right moment to be of the most help when you are stuck, afraid, confused, blinded by being too close or lost in bad habits and old patterns of thinking.
As your coach, I motivate you, support you and hold space for you to shake off fears and negativity, as well as to plan, strategize and celebrate each success no matter how small, they don't go unnoticed and they add up.  I'm 100% on your side … gentle and caring, but firm and direct. In this manner, I will keep you accountable to your steps and plan, so that you make it.
Learn more about my approach to coaching – Cultivate ~ Integrate ~ Act
Also, or as a stand alone reason for coaching with me, I can mentor you in developing a meditation for mind body health practice and/or in living a mindful life.  If you'd like to take a spiritual approach, we will. It's up to you.
I coach women across the US by phone, video and in person in my office in southern CA or another designated place. I work with international clients by phone through Skype only.
If you would like to schedule a complimentary call so we can "meet" each other and discuss what you are seeking, contact me.
Namaste,
Kimberly