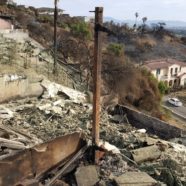 Rebuilding Resilience after Thomas Fire and Mudslide, January 17, 2018
In the seven weeks since the Thomas Fire began, another tragedy befell one of the areas hit by fires in Santa Barbara County, Montecito, as yet another result of the scorched earth Thomas left behind. Mud, water, and boulders came roaring down in a 2-mile stretch onto unsuspecting residents asleep in their home causing total destruction of 100 houses and damage to 300 more.
People of all ages died and were injured, and some are still missing. The 101 freeway and surrounding roads are still flooded with thick mud, furniture, cars, pieces of houses, and everything else that got in the avalanche-like assault on the land in the first rain post-fire.
Those of us who live there and nearby were speechless, awestruck, sick at heart, pushing back emotions, and for many, re-traumatized. The rug under our feet was pulled out again causing mayhem and great losses for innocent families and their community.
These repeated stressful events are exhausting everyone affected. The emotions and memories are disturbing their much-needed sleep, and frequently intruding their thoughts, distracting and upsetting them so much so, work, living and school are more difficult than normal.
Health, relationships, and finances are taxed, and damaged depending on the type and magnitude of the change or loss.
Children are grieving too, feeling fearful, having nightmares, are out of sorts and out of routines that facilitated their sense of stability and trust in life. Some children are also grieving the loss of family members, friends, pets, special personal items, and their home or bedroom.
Resilience is key to getting through these toughs times, and the tougher your situation is, the more resilience you will need.
Resilience can be learned, enhanced, and rejuvenated. Our body, mind, and spirit are designed to be resilient. Resilience levels get worn down and sometimes worn out from chronic stress, but with sustained self-care practices, mindful awareness and engaging healing opportunities that fit your needs; it can usually be brought back to adequate or higher levels than before the tragedy, thereby preparing us for the next significant stressor that comes along.
Due to the unfortunate circumstances of my girlfriend whose Ventura Hillside home burned to the ground, I learned about "The ComeBACK Formula™ " developed by Sandra Millers Younger whose Southern California home burned down, one of 3,700 structures that burnt in the 2003 Cedar Fire.
Younger defines resilience as the "process of adapting well in the face of adversity, trauma, tragedy, threats, or even significant sources of stress….It means bouncing back from difficult experiences."
Younger's book, "The ComeBACK Formula™, A Resilience System Workbook," offers "five powerful, common-sense practices shown to transform crisis into possibility." Published in 2017, this 31-page spiral-bound booklet can be found on her website here.
These are Sandra Millers Younger's five steps for bringing resilience back, described in my abbreviated wording:
1. Being in gratitude
2. Being patient and believe you will overcome
3. Accept help and ask for it when you need it
4. Choose victim or victor
5. Keep moving forward
In her guide she describes each step followed by exercises or tools you can implement now as needed, and later as your grieving subsides and resilience building continues.
Younger wrote this for survivors, crisis professionals, emergency responders, nonprofit leaders and volunteers, and I would add, for anyone who has faced a similar magnitude of loss or being out of control due to weather conditions.
Younger sprinkled quotes throughout the book. This one especially drew my attention, this review suggests the trait mindfulness and acceptance are associated with greater psychological adjustment following exposure to trauma, while experiential avoidance, persistent disassociation, and coping strategies involving emotional disengagement are associated with greater PTSD symptom severity and related psychopathology.*
I hope you will check out this helpful guide as you progress in your journey, or gift it to someone else. . I will end with a quote from Younger herself, Those who are most successful in negotiating the comeback journey eventually work through their initial sense of incredulity and denial, and accept that life has changed. And that realization enables them to shift their focus to the opportunities inherent in building a new future. (page 25)
*Conceptualizing mindfulness and acceptance as components of psychological resilience to trauma, in Trauma Violence Abuse, October 2011, This journal article is written by Thompson RW, Arnkoss DB, and Glass CR.
Younger wrote a memoir book about her fire experience, The Fire Outside My Window: a survivor tells the true story of California's Epic Cedar Fire
Sandrayounger.com and www.comebackformula.com