Meditate on Paper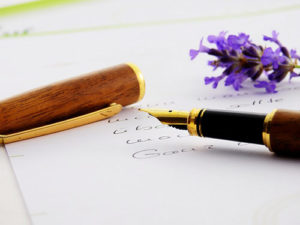 Date:  March 11, 2018  Sunday  Time: 11-3 PM
WORKSHOP to Meet your Highest Self in writing workshop, Meditate on Paper.
Sunday 11-3 PM Sept 17,
You'll try 4 different methods of writing /journaling to get answers to your questions about your life, health, relationship, career, anything at all.
All that you write is private,  sharing is not required at all.  We will discuss the processes themselves so that you understand them well to enable your use of the ones you like again at home.
These are proven techniques of writing longhand on paper to get to your inner wisdom.  It's true!  I have used these methods myself for years.  This isn't hocus pocus, you'll use both sides of your brain, with an emphasis on the less often tapped right side.  Anyone can do them and they are very interesting and helpful.
Please be sure to pre-register with the City of Ventura and pay them, saving time on Sunday, funday.
www.cityofventura.net/recreation
Use the link above to register online or call them during business hours, through Thursday at 654-7563
Bring your lunch, drink, a pen and a  journal or hard backed writing surface and paper as you may be writing on your lap.  Dress in layers, it can be chilly or hot.
Invite your friend? Send them this link-  http://kimberlywulfert.com/meditate/meditate-on-paper/
Questions?? call me at 320-9361 or email through my Contact page
Learn proven writing techniques to gain insights, solve problems, receive inner guidance using longhand writing. No experience needed.
In this class, which is intended to be fun, you will learn different ways of accessing your inner knowing through writing. These methods cut through the chatter and automatic thinking that blocks your understanding or problem solving. Some people think they access their higher self, either way, they are proven methods, easy to do and you can use them again and again. Everything you write is private. We will discuss the experience of the processes.
We'll meet at the Barranca Vista Center on Ralston and Johnson.
Fee: $49.00  Adults
Pre-Register online starting in late December at www.cityofventura.net/recreation or call to register at 654-7563
Questions? Give me a call or email through my Contact page